Metrology Accessories for Rent
Having enough accessories such as SMR's, Scale Bars, Hidden Bars, Nests or Adapters are an essential part of ensuring your project is a success. Rent what you need and have it arrive directly on you job site. In addition to the wide range of 3D documentation sensors HTS offers, we also offer for rent the small but important items.
Contact HTS if the accessory you are looking for is not listed below.
FARO 8-Axis Scanning Platform
For use with: CMM Arms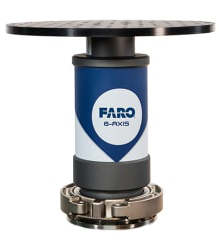 Optional 8-Axis Scanning Platform can also be integrated with the FARO Edge Arms providing a natural extension of the FaroArm capability.
The additional axis plugs directly into the FARO Arm for seamless integration.
Benefits include workspace optimization, operator effectiveness, high measurement speed, and reducing the number of movements required to complete the measurements.
The tool is optimal for industries such as aerospace, automotive, metal fabrication, woodworking, plastics, toy manufacturing, molding and more.
Product Brochure:
FARO 8-Axis Scanning Platform
FAROBlu
™
Laser Line Probe HD (LLP)
For use with: CMM Arms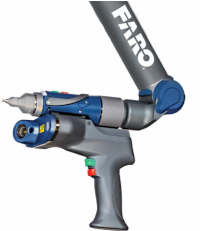 The FAROBlu™ LLP uses superior blue laser technology that is perfect for highly detailed scanning.
Its laser line width of 150mm allows a larger area to be scanned making the LLP much more efficient. 
This LLP is compatible with both the Quantum Series CMM Arms and the Edge rev 3.6 or later.
Product Brochure:
FARO LLP HD Assembly Instructions
Laser Tracker Optical Tool Kit (1.5″ SMR Kit)*
For use with: Laser Trackers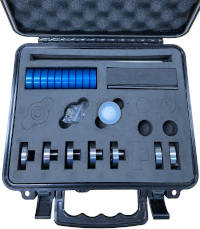 Tooling kits add versatility and flexibility to your data collection through various types of nests, extension bars, and multiple seat monuments.
– 1.5″ ball Seat Monument (10 ea)
– 1.5″ ball Flat Nest
– 1.5″ ball Edge Nest
– 1.5″ ball Center Punch Nest
– 1.5″ ball 1/8″ Pin Nest
– 1.5″ ball 1/4″ Pin Nest
– 12″ bar extension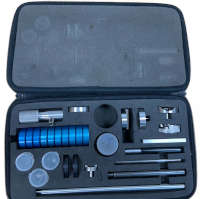 *minimum items in kit.
– some kits may contain more items
– see packing slip for verification
6″ Magnetic Mount
For use with: Laser Trackers & CMM Arms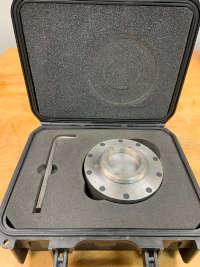 A great way to add flexibility to any CMM Arm or Laser Tracker.
When a tripod is not ideal this universal 6" mount allows you to get closer by mounting on a steel plate or table or even the machine itself.
The magnets can be turned on and off which allows you to easily move it around as needed.
This mount is recommended for all CMM arms up to and including 12 ft arms.
MAGIE Magnetic Mount
For use with: Laser Trackers & CMM Arms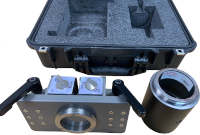 Magnetic Angular Geometry for Industrial Equipment – MAGI
A magnetic base mount specifically designed by Acquip for curved surfaces.
MAGIE eliminates the need for large flat mounting surfaces and is perfect for bores and pipes.
Leapfrog Magnetic Cone Tips
For use with: CMM Arms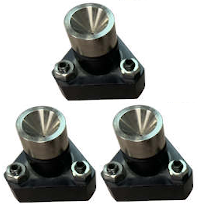 Set of 3 Leapfrog Magnetic Cone Tips.
These are used as temporary reference points on your parts in order to be able to move the CMM Arm from one location to another for a continuous measurement set.
Because they are magnetic they do not damage your part like other more permanent solutions such as hot glue or bolting them on.
The magnetic base is also adjustable.
Tripods
– folding, portable
For use with: Laser Trackers & CMM Arms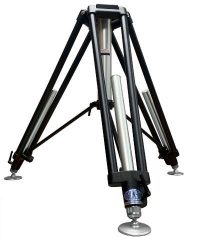 Lightweight, portable M Series tripods from Brunson designed for both functionality and portability.
The telescoping legs allow it to be adjusted for a wide range of heights.
Will fit on any product with an internal 3 ½"-8 thread.
HTS Metrology Equipment
Rental Pool
Creaform HandySCAN 700
FARO Quantums V2 Arm

***

 
FARO Quantums V2 ScanArm HD***
FARO Edge FaroArm® - 9'
FARO Edge ScanArm HD - 9'
***Available sizes: 2.5m, 3.5m & 12′
FARO Vantages Tracker
FARO Vantage Tracker
Easy-Laser E950- C Bore Alignment System
Easy-Laser E710- Shaft Alignment System
CAM2 Measure 10
Geomagic Wrap
Spatial Analyzer (SA) Professional
FARO 8-Axis Scanning Platform
FAROBlu™ Laser Line Probe HD
Laser Tracker Optical Tool Kit (1.5″ SMR Kit)
Magnetic Mounts
– 6″ Magnetic Mount
– MAGIE Magnetic Mount
– Leapfrog Magnetic Cone Tips
Tripods – portable, folding