Laser Alignment Systems for Rent
Using our highly precise Laser Aligment Systems gives you the ability to measure the straightness and the positions of one machine relative to another with ease. Some of the advantages of using a laser alignment system over conventional tools is the amount of time and money you will save through less downtime and prolonging the life of your machines.
Partnering with R E Align, who have 40+ years experience in alignment measurement technology, we are able to offer precise alignment data collection and advise you on the most cost-effective solution to fix your alignment issues.
Laser Alignment services include rotating equipment (shafts, bores etc.) installation alignments, foundation & flatness measurements, realignment following foundation repairs and more.  Call HTS or contact us to see what we can do for you!
Easy-Laser E950-C
Bore Alignment System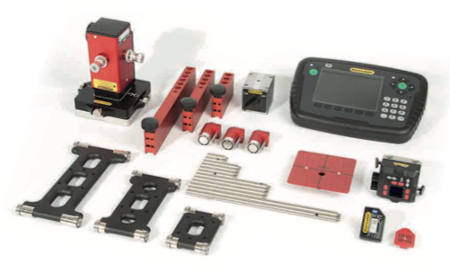 Measuring and aligning bearings and bearing journals has never been easier thanks to the wireless detector and versatile brackets of the Easy-Laser E950-C Bore Alignment System.  The E950 can measure full bores, half bores, and bore ovality and is also capable of calculating waviness and best-fit, and multi-point measurement.
Product Brochure:
Easy-Laser 950
Easy-Laser E710
Shaft Alignment System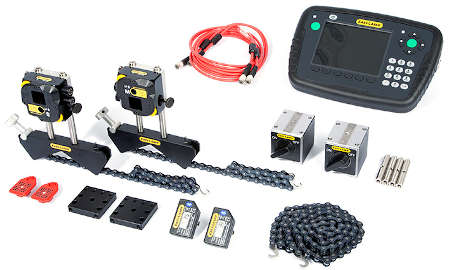 The Easy-Laser E710 is not only a fast and efficient shaft alignment system, but is also great  for all stages of your machine set up. Whether checking the base, bearing play, or vibration levels, using the E710 will reduce your risk of downtime by ensureing machine optimization.  Some of the most popular programs included are straightness measurement, flatness measurement, and belt alignment programs and work with all types of machine configurations.  The E710 is designed with inclinometers in the measuring units for position accuracy and can measure distances up to 66 feet.   It also comes with a wireless display unit, electronic targets, flexible mounting options, two laser beams and two PSDs for reversed measurement method.
For more information, please contact HTS at 833-273-6833.
Product Brochure:
Easy-Laser 710
HTS Metrology Equipment
Rental Pool
Creaform HandySCAN 700
FARO Quantums V2 Arm

***

 
FARO Quantums V2 ScanArm HD***
FARO Edge FaroArm® - 9'
FARO Edge ScanArm HD - 9'
***Available sizes: 2.5m, 3.5m & 12′
FARO Vantages Tracker
FARO Vantage Tracker
Easy-Laser E950- C Bore Alignment System
Easy-Laser E710- Shaft Alignment System
CAM2 Measure 10
Geomagic Wrap
Spatial Analyzer (SA) Professional
FARO 8-Axis Scanning Platform
FAROBlu™ Laser Line Probe HD
Laser Tracker Optical Tool Kit (1.5″ SMR Kit)
Magnetic Mounts
– 6″ Magnetic Mount
– MAGIE Magnetic Mount
– Leapfrog Magnetic Cone Tips
Tripods – portable, folding