HTS has metrology solutions for the most challenging of projects and the expertise to help you with your task no matter where it is in the world.
FARO Vantages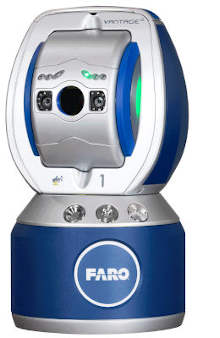 The latest generation of the Vantages Laser Tracker, built for short to long range measurement application of up to 80 meters, maximizes productivity and reduces inspection cycle times by 50% to 75%.
Everything is faster from warmup, to WiFi to field compensation. Obtaining measurements has never been easier since the integration of ActiveSeek and RemoteControls features.  The patent-pending ActiveSeek allows the tracker to quickly locate and lock onto a moving target, and then easily pick it up again after it has been behind an obstacle.
The RemoteControls feature enhances workflow by allowing you to use a tablet or smart phone to control live video feed and tracker movements.
It still comes with the same ruggedness and portability as the original Vantage, and remains highly accurate with little to no drift.
You can count on the Vantages to work in both darkness and bright sunlight as well.
Product Brochure:
FARO Vantages Laser Tracker
FARO Vantage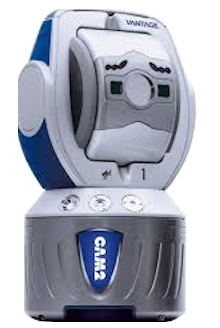 The FARO Vantage Laser Tracker is an extremely accurate, portable coordinate measuring machine that enables you to build products, optimize processes, and deliver solutions by measuring quickly, simply and precisely
160m (525 ft.) spherical working volume
Accuracy up to 0.015mm (0.0006 in.)
Product Brochure:
FARO Vantage Laser Tracker
HTS Metrology Equipment
Rental Pool
Creaform HandySCAN 700
FARO Quantums V2 Arm

***

 
FARO Quantums V2 ScanArm HD***
FARO Edge FaroArm® - 9'
FARO Edge ScanArm HD - 9'
***Available sizes: 2.5m, 3.5m & 12′
FARO Vantages Tracker
FARO Vantage Tracker
Easy-Laser E950- C Bore Alignment System
Easy-Laser E710- Shaft Alignment System
CAM2 Measure 10
Geomagic Wrap
Spatial Analyzer (SA) Professional
FARO 8-Axis Scanning Platform
FAROBlu™ Laser Line Probe HD
Laser Tracker Optical Tool Kit (1.5″ SMR Kit)
Magnetic Mounts
– 6″ Magnetic Mount
– MAGIE Magnetic Mount
– Leapfrog Magnetic Cone Tips
Tripods – portable, folding
Comparing FARO Vantage & Vantages Trackers
Vantage
Vantages
Size
Compact Size
Compact Size
Case
Rugged Carrying Case
Rugged Carrying Case
IP Rating
Water & Dust Resistant
IP52 Rating
Water & Dust Resistant
IP52 Rating
Head Size
224(W) x 416(H) mm
8.8(W) x 16.4(H) inches
240(W) x 416(H) mm
9.4(W) x 16.4(H) inches
Head Weight
12.6kg (28lbs)
13.4kg (29.5lbs)
Controller Weight
4.8kg (10.6lbs)
MCU integrated into the head
Controller Size
Without filters:
290(L) x 158(D) x 214(H) mm
11.4(L) x 6.2(D) x 8.4(H) inches
MCU integrated into the head
With filters:
316(L) x 158(D) x 214(H) mm
12.4(L) x 6.2(D) x 8.4(H) inches
MCU integrated into the head
Target Lock
SmartFind
Active Seek - locate & lock on target allowing you to follow a moving target, even behind obstacles, and lock on target again when it is stable
Cameras
Multiview Cameras
Multiview Cameras - increased Field of View from 30 deg to 50 deg
ADM
TruADM
iADM - uses one laser to measure angle and distance and so removes errors and drift associated with two-beam tracker technologyTruADM
Connectivity


Integrated WiFi
Remote Control Workflow - allows users to control functions such as live video feed and tracker movements with a mobile phone or tablet.
QuickComp
QuickComp
TriMap Encoders
TriMap Encoders
In-Line Optics
In-Line Optics